I've been in a slump, but recently have rekindled my interest in furnishings for our new little house. I was reading one of the blogs I follow today (check out The Wicker House
here
) and was inspired to look through the new Pottery Barn summer catalog for ideas like Emily (of the previously mentioned blog) did. Here are some things I found that I liked in the online catalog.
We need a new entertainment center or console to place our TV, receiver, Blu-Ray player, audio receiver, etc., etc. upon. I love substantial, hardwood pieces, but don't like the price. I am ambitious and think I can build anything, plus making your own furniture pieces is not only rewarding, but makes the piece mean more to you, is much cheaper, and guarantees you can get exactly what you want and that the materials are what you are really looking for. I admit that I have not yet committed to tackling drawers. I am afraid I would not get them perfectly square and they would stick (and I am easily frustrated). I don't want half-finished furniture sitting around because I was too impatient to get it right. I really love the third photo below and it is an item that can be created in "chunks" and secured together later.
Winslow Large Media Stand
Benchwright Media Console
Printer's Collection
I also love high quality, soft leather furniture (made from responsibly raised and humanely treated animals). Though since we have animals of our own, it is unlikely that we would ever go this route. We currently have one leather chair with all kinds of pokey holes in one side from a certain kitty cat. And no, we do not (and will not) declaw our cats. Here are a couple seating pieces that caught my eye anyway.
Manhattan Leather Chair
Turner Sofa
I also want to make a bed, or at least a headboard (we currently have a bed frame with no headboard attached). I like the idea of a platform bed with storage drawers underneath, but we don't really want to give up our box spring. I have the plans for a farmhouse bed similar to the one in the picture below, but don't know what we are going to do about night stands yet. Currently S uses a small antique table on her side of the bed and I use a cheap pre-fab table that I bought in college on my side. I would like to eventually have matching night stands on each side with a bit more room on top than we currently have. I like the nightstand in the photo below, but again...drawers. We will see what happens down the road.
Mason Bedroom Furniture
I am confident that we can make a kitchen table to replace the one we currently have (which my mom bought used before I was born and has no hardwood anywhere in it). I like the substantial nature of the table below, though we won't have the space or the need for anything this large. I also like the wood color block "collage" on the wall behind the table, but since I live with a professional artist, our art pieces are ever changing on our walls and we don't have a need for anything more.
Benchwright Dining Collection
And finally, a piece I have committed to making first when we move. It is a nice, basic desk that we will put in S's art studio so she has lots of space to spread out and work. It will be so nice for her to have the space to place her palette and paints on a flat surface and not have to worry about knocking them on the floor because she doesn't have enough space. This piece is NOT from Pottery Barn. I found the picture on Houzz and the one in the photo was made by UrbanWood Goods.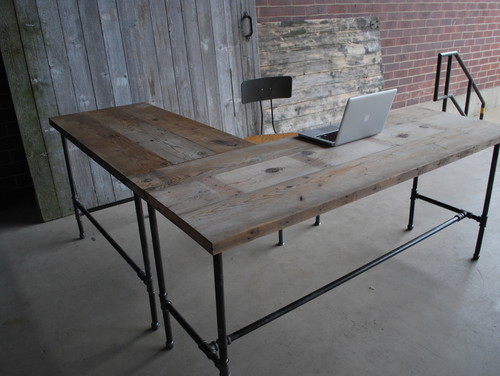 You can check out the current Pottery Barn catalogs for yourself
here
. You can also check out Houzz
here
.